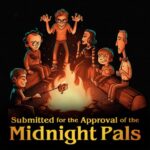 In the middle of a busy month full of wild gigs (Our Cambridge Theatre show sold out to 1,200 nerds and brought Unnecessary Detail to the West End! I recorded a cool TV show I can't tell you about until Christmas! Sienna Clarke sang our teenage jiu jitsu suffragette song in the Stiles + Drewe Best Song Prize final! I wrote two new songs for A Podcast Of Unnecessary Detail including a 9 minute musical about automotive pioneer Bertha Benz! The Overture showcase for my Astronaut show is happening this Friday! I did a solo show in a planetarium in Leicester!) here is a moment of calm and a podcast you might like to listen to.
Before all the busy stuff started, I recorded the voice of Mary Wollstoncraft (yes, the mother of Mary Shelley, yes the Frankenstein one) and sang the closing song for this dark literary, fantasy, storytelling podcast "Submitted For The Approval Of The Midnight Pals" and the whole episode is finally out today. Follow that link, or search for "midnight pals" wherever you get your podcasts.
I got to channel my most classic embarrassing mum vibes for the script, and my twisted Frank Sinatra vibes for the song. Enjoy!