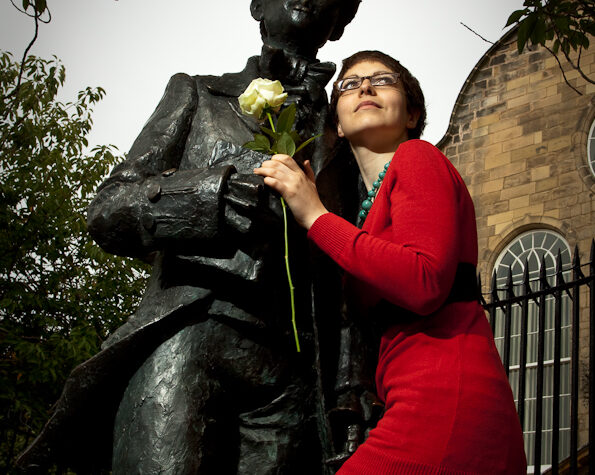 From songs about algorithms commissioned by BBC Radio 3 to an interactive one-person musical about evolution performed by a motivational Zumba giraffe at the Natural History Museum, Helen loves to write – especially when it involves astounding women, science and songs.
She is currently developing several full-length musical theatre works about teenage jiu jitsu suffragettes, early women astronauts and everything Darwin got wrong about the female of the species. Helen is a member of Mercury Musical Developments Advanced Writer's Lab, a graduate of Book, Music & Lyrics workshops, and a serial collaborator with a wide range of composers, lyricists and bookwriters.
Her show "Almost Astronauts" – created with Jenna Dyckhoff – has been selected for the 2023 Overture Artist Development Programme, after being supported with an R&D week at Leeds Conservatoire and a grant from the Jane Goodman Writing Fund. The title song from "The Unstoppable Letty Pegg" – based on Iszi Lawrence's novel and written with composer James Hughes – is a 2023 finalist in the Stiles + Drew Best New Song Prize.
Helen also has several factual and funny Radio 4 series under her belt, including experimental comedy show "Domestic Science" with Festival of the Spoken Nerd, the revisionist science history show "Did The Victorians Ruin The World?" with her sister Dr Kat Arney as well individual commissions for "The Verb" and "Essential Classics" on Radio 3 and "More Or Less" on Radio 4. 
Alongside writing and performing three solo shows at the Edinburgh Fringe and three national UK tours with Festival of the Spoken Nerd, Helen co-wrote the illustrated pop science manual "The Element In The Room" with Steve Mould. She also graduated from City University's Masters in Playwriting and Screenwriting with Distinction, where she won the year prize for her final screenplay.
Helen is currently unrepresented for musical theatre writing. If you want to talk about any projects that fall under those categories, please get in touch with her direct.