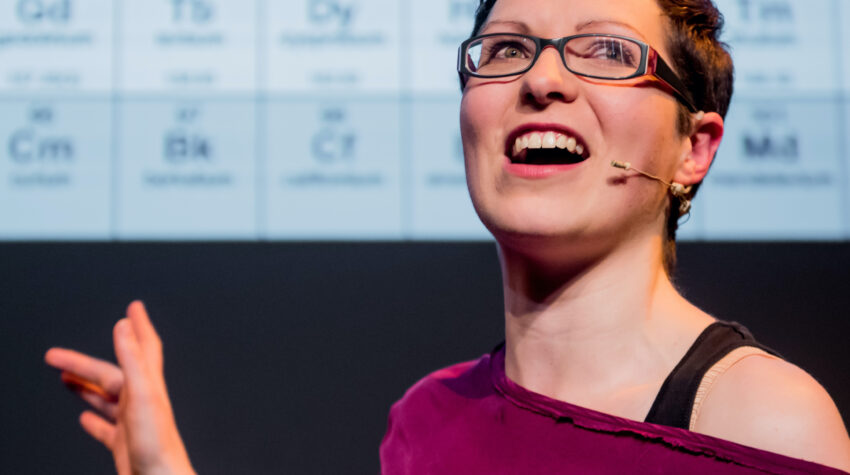 Alongside writing and performing, Helen presents funny and factual shows for TV, radio and live on stage. 
For BBC Radio 4, she co-wrote and presented the lunchtime series "Did The Victorians Ruin The World?" with her sister Dr Kat Arney, and her selection of badass physicist and inventor Hertha Ayrton for the "Great Lives" series can still be heard on iPlayer along with appearances on "More Or Less" with Tim Harford and "Infinite Monkey Cage" with Robin Ince and Brian Cox.
On Radio 3, Helen has appeared several times as a guest on In Tune, The Verb, Essential Classics and will make her debut as live concert presenter with the BBC National Orchestra of Wales and Will Gregory Moog Ensemble on BBC 6Music later this year. 
With Festival of the Spoken Nerd, Helen released two series of a podcast full of unnecessary detail in 2020 and 2022, called "A Podcast Of Unnecessary Detail" and loosely based on their sell-out monthly comedy nights. A third series is currently in the works. 
Helen's television appearances include BBC Two Coast, explaining the physics of G-force whilst riding the UK's tallest rollercoaster; Electrifying Sandi Toksvig and Matt Lucas in an interactive science experiment on BBC2's QI; Discussing pandas, axolotls and star-nosed moles on BBC Two Newsnight; Unlocking the physics of internet videos across ten series of Outrageous Acts of Science for Discovery Channel and performing stand-up and songs in Stewart Lee's Alternative Comedy Experience for Comedy Central.
Helen also hosts live events of every kind, from science-themed classical concerts with the London Philharmonic Orchestra at the Royal Festival Hall to the annual international celebration of women in science and engineering, Ada Lovelace Day – Live! and the occasional science-themed quiz for the Royal Society. She is also a regular feature at conferences, events and awards ceremonies for organisations as diverse as CERN, the United Nations, Google, British Science Association, WIRED, Institute of Physics, Royal Institution, Royal Society of Chemistry, Lloyd's Register Foundation, Natural History Museum, Science Museum and Wellcome's Genome Campus.
If you'd like to talk to Helen about your TV, radio or live event project, please get in touch.
Showreel  |  TV  |  Radio  |  Online  |  Radio Production

TV Credits
2019 – Great Inventions, Series 1-4 – ZDF, Mainz
2018 – Outrageous Acts of Science, Series 7 – Discovery Channel
2018 – Outrageous Acts of Science, Series 6 – Discovery Channel
2017 – BBC2 QI – science experiments on two episodes
2017 – Outrageous Acts of Science, Series 5 – Discovery Channel
2016 – Outrageous Acts Of Science, Series 4 – Discovery Channel
2016 – "Eureka!" science panel show – RTE, Ireland
2016 – Updated Elements Song – Channel 4 News
2015 – Outrageous Acts Of Science, Series 3b – Discovery Channel
2015 – Coast, guest presenter on the search for Dark Matter – BBC Two
2015 – You Have Been Warned/Outrageous Acts of Science, Series 3, presenter – Discovery Channel
2014 – Coast, guest presenter on the science of rollercoasters – BBC Two
2014 – Stewart Lee's Alternative Comedy Experience, Series 2 – Comedy Central
2013 – IT Crowd Documentary – Channel 4
2013 – You Have Been Warned/Outrageous Acts of Science, Series 2, presenter – Discovery Channel
2013 – Newsnight, science guest, Ugly Animal Preservation Society – BBC Two
2012 – Schrodinger's Katt, music feature – NRK 1, Norwegian TV
2012 – You Have Been Warned/Outrageous Acts of Science, Series 1, presenter – Discovery Channel
2012 – Megabits, series voiceover – BBC Two
2011 – 4Thought, presenter – Channel 4
2011 – Inspired by the BBC, featured interview – BBC Learning
Radio Credits
2021 – Live concert presenter, BBC National Orchestra of Wales – BBC Radio 3
2018 – 16 episodes of "Time Traveller" for Essential Classics – BBC Radio 3
2018 – The Verb, including a commissioned song – BBC Radio 3
2018 – Great Lives guest, selecting physicist and inventor Hertha Ayrton – BBC Radio 4
2018 – Second series of "Domestic Science" with Festival of the Spoken Nerd – BBC Radio 4
2017 – Radio 4 series "Did The Victorians Ruin The World?" with Kat Arney & Hat Trick – BBC Radio 4
2017 – Radio 4 "Museum of Curiosity" with John Lloyd and Jo Brand – BBC Radio 4
2016 – Radio Comedy series "Domestic Science" with Festival of the Spoken Nerd – BBC Radio 4
2015 – More Or Less "Number of the Year" – BBC Radio 4
2014 – Festival of the Spoken Nerd, pilot – BBC Radio 4
2014 – More Or Less "Number of the Year" – BBC Radio 4
2014, 2013 – Bacon's Theory, science expert – BBC Radio 5 Live
2013 – More Or Less "Number of the Year" – BBC Radio 4
2013 – MacAuley and Co, guest performer – BBC Radio Scotland
2013 – Weekend, guest performer – BBC World Service
2013 – Red Nose Day "Top of the Baroque", writer and presenter – BBC Radio 3
2012 – Richard Bacon Show, Edinburgh Science Festival, science expert – Radio 5 Live
2012 – Ian Collins Show, guest commentator – LBC
2011 – Infinite Monkey Cage Christmas Special, guest performer – BBC Radio 4
2011 – Wondermentalist Cabaret, guest performer – BBC Radio 4
2011 – Infinite Monkey Cage at Cheltenham Science Festival, guest performer – BBC Radio 4
2011 – Tim Key's Suspended Sentence, voiceover – BBC Radio 4
2010 – "Office Christmas Party" – BBC 6 Music
Online Credits
2022 – A Podcast Of Unnecessary Detail, Series 2
2021 – Affinity Water "Save our Streams" campaign
2021 – Royal Society Summer Exhibition Quiz host
2021 – Wellcome Genome Campus Public Engagement Awards ceremony host
2020 – A Podcast Of Unnecessary Detail, Series 1
2019 – Hitachi High Tech promotional films.
2019 – Stand Up Maths piano permutations video, watch here.
2019 – United Nations "Designed For Science" conference.
2018 – You Can't Polish A Nerd – Festival of the Spoken Nerd DVD and download, available here
2018 – Tom Scott channel game show "Lateral", available here
2017 – Just For Graphs – Festival of the Spoken Nerd DVD and download, now available to buy
2016 – Objectivity contributor – YouTube
2015 – Full Frontal Nerdity – Festival of the Spoken Nerd DVD and download, now available to buy
2013 – Numberphile contributor – YouTube
2013 – Headsqueeze, Number Hub contributor – YouTube
2013 – TEDx guest speaker – London School of Economics
2013 – Zubox, topical songwriter and performer – YouTube
2013, 2012 – Science Weekly podcast, studio guest – Guardian
2012 – Wired Magazine UK tablet edition, featured artist – Conde Nast
2012 – Royal Institution Advent Calendar, presenter – RI Channel
2012 – Amnesty International Secret Podcast, guest performer – Guardian
2012 – Hangout for Google Science Fair with Festival of the Spoken Nerd – Google Education/YouTube
2012 – Ignite London 6, as Domestic Science – Vimeo
2011 to present – Festival of the Spoken Nerd "Extra Time For Questions" podcast – iTunes
2011 – Ukulele for Dummies, live lesson video with Amy Lam ©Wiley
Radio Production Credits
2005-2010 – Broadcast Assistant for Breakfast, Performance on 3, New Generation Artists, Words & Music and The BBC Proms (BBC Radio 3)