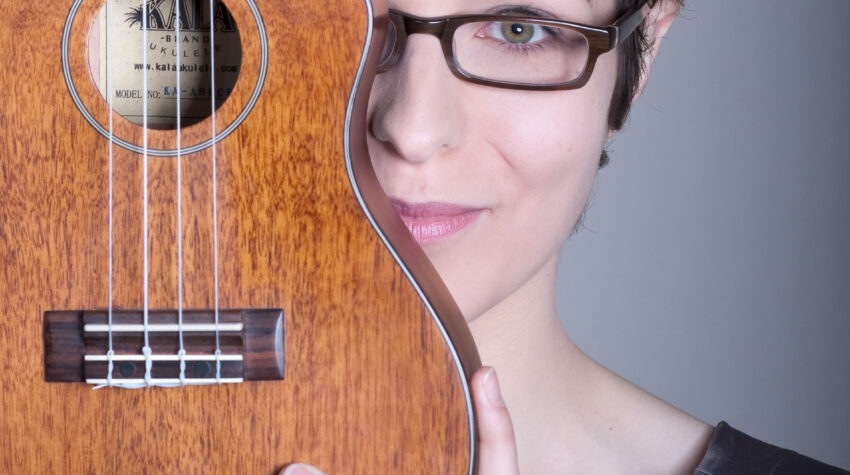 Songwriter, science presenter and 'Voice of an Angle' Helen Arney regularly features on TV, Radio and in theatres across the world with her unique mix of stand-up, songs and science. You might have seen her explaining physics while riding a rollercoaster for BBC2 Coast, electrifying Sandi Toksvig on QI, singing the periodic table on Channel 4, smashing a wine glass with the power of her voice live on Blue Peter or touring with science comedy phenomenon Festival of the Spoken Nerd.  
Helen is currently working on several full-length musical theatre projects about teenage jiu jitsu suffragettes, early women astronauts and everything Darwin got wrong about the female of the species.
Her show "Almost Astronauts" – created with Jenna Dyckhoff – has been selected for the 2023 Overture Artist Development Programme, after being supported with a week of R&D at Leeds Conservatoire and a grant from the MMD Jane Goodman Writing Fund. The title song from her show "The Unstoppable Letty Pegg" – based on Iszi Lawrence's novel and written with composer James Hughes – is a finalist in the Stiles + Drew Best New Song Prize 2023. Helen is a member of Mercury Musical Development's Advanced Writer's Lab and a graduate of Book, Music and Lyrics workshops in London. 
She also has a Physics degree from Imperial College London, a Masters with Distinction in Playwriting and Screenwriting from City University, and has filled several notebooks with rhymes for Uranus (none of which are printable here). 
Press quotes
**** "Lots of distinctive laughs… Classy stuff" — Chortle
***** "Hugely entertaining, clever comedy at its best" — The Skinny
"An all-round smartypants… the confidence and clarity of Arney's performance is exceptional" — The Telegraph
**** "Charming, witty, warm… great one-liners" — The List
"Champion of musical whims" — Evening Standard
TV, Radio, Presenting and Corporate Work
Helen presents science on TV and radio, including BBC2 Coast, Great Inventions, Outrageous Acts of Science on Discovery Channel and as one third of Festival of the Spoken Nerd on stage and in "A Podcast Of Unnecessary Detail". She wrote and presented the revisionist science history series "Did The Victorians Ruin The World?" for BBC Radio 4 with sister Dr Kat Arney, and two series of "Domestic Science" with the Spoken Nerds. Helen's voice features in a new collaborative work with artist Yu-Chen Wang and CERN, and she is the voice of the Periodic Table on Amazon Alexa in the US.
Helen also hosts live events of every kind, from science-themed classical concerts with the London Philharmonic Orchestra and BBC National Orchestra of Wales to the annual international celebration of women in science and engineering, Ada Lovelace Day – Live!
As a corporate entertainer, Helen has performed under a dinosaur for Europe's science ministers, next to a Saturn V rocket in Huntsville, Alabama for ThinkerCon, on stage with Commander Chris Hadfield at the Royal Albert Hall and in Las Vegas for The Amaz!ng Meeting.
She is also a regular feature at conferences and events for the United Nations, CERN, Google, Science Museum, British Science Association, WIRED, NIHR, Institute of Physics, National Centre for Excellence in the Teaching of Mathematics, Royal Institution, Royal Society, Royal Society of Chemistry, Lloyd's Register Foundation, Natural History Museum, SQLBits Conference, UCL and Wellcome Genome Campus.
Live Comedy
As well as her solo shows and Festival of the Spoken Nerd, Helen performs sets at comedy clubs across the UK. She's appeared at the Hammersmith Apollo, Edinburgh Fringe, Soho Theatre, Underbelly Festival, and on Comedy Central in "Stewart Lee's Alternative Comedy Experience". Music festival appearances include Big Feastival, Latitude, End Of The Road, Green Man, Greenbelt, Bestival and Secret Garden Party, and science festivals in Brighton, Cambridge, Edinburgh, Cheltenham and the British Science Festival. She also curates science comedy nights everywhere from the Oxford Literary Festival and Royal Institution to Norwegian Science Week in Trondheim and Oslo and the National Astronomy Meeting.
Other Stuff
Helen has a degree in Physics from Imperial College London and a Masters with Distinction in Playwriting and Screenwriting from City University, where she won the year prize for her final screenplay. Helen's first short play 'Evolution Disco' was performed at the Natural History Museum and the Spoken Nerd's first illustrated book 'The Element In The Room' was co-written with Steve Mould and published by Cassell. She now writes musical theatre shows about – among other things – about teenage jiu jitsu suffragettes, early women astronauts and everything Darwin got wrong about the female of the species.
Also a classically trained musician, she holds grade 8 in both piano and oboe. After graduating, Helen joined the start-up team that founded UK charity Teach First, recruiting some of the very first science and maths teachers to join their graduate programme. She has also worked professionally as a tour guide at London's Royal Albert Hall.
And, yes, Helen is the youngest sister of Dr Kat Arney.