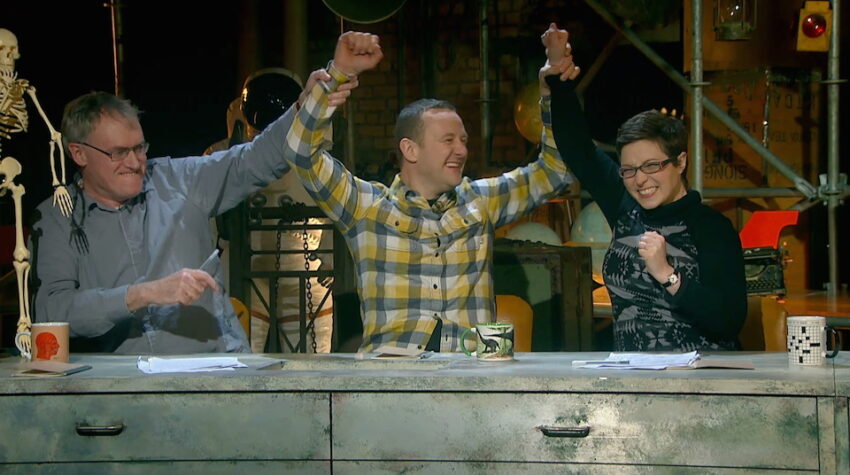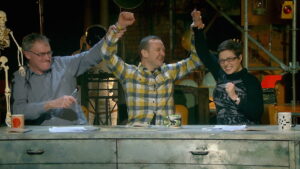 Quick news update for April, with three things on your tellybox that I'm appearing in soon:
OUTRAGEOUS ACTS OF SCIENCE – the new series has already gone out in the US, but UK viewers can watch it on WEDNESDAY NIGHTS AT 8pm on Discovery UK. There's plenty of new clips to watch here in the meantime, including the punniest collection of science presenters on the planet.
EUREKA! THE BIG BANG QUERY – if you're in Ireland (or can somehow magically get RTE channels wherever you are) you can see me on two episodes of Eire's best new / only new science-themed panel show. You can see me doing a very special version of The Elements on MONDAY 24th APRIL around 10.30pm, with Neil Delamere in the hotseat, and comedians PJ Gallagher and Susan Calman. If you're not in the right part of the world, you can still see Neil making a ninny of himself in a wind tunnel here – for science, of course…
THE IT CROWD MANUAL – and for everyone who loved The IT Crowd as much as Roy loved an obscure nerdy t-shirt, I'm briefly in this tribute to the programme. It aired a few years ago, but now you can watch it (and all the episodes too) on the Channel4 website ANY TIME YOU LIKE.