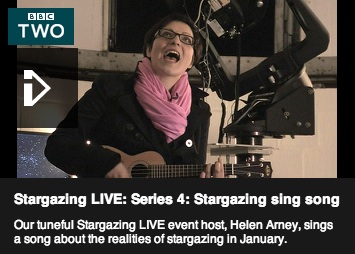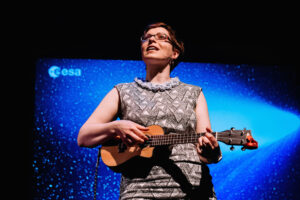 Next week I'm hosting three big shows for BBC Live Events, in Portsmouth, Norwich and Royal Holloway. They complement the Stargazing Live BBC TV series from 6th to 8th January – if you're in those areas take a look at the dates and how to get tickets here. I also wrote them a song, click on the image to the left for some sing-along astronomy.
Another new song for the BBC was on Radio 4 yesterday, in More Or Less, for their "Numbers of the Year" programme. If you've always wanted to receive the world's biggest prime number for Christmas (who doesn't?) you can download it for free here, or listen to the whole programme here.
You also might have caught a glimpse of me on Channel 4 on Christmas Eve, in a programme about the documentary… I mean sitcom… "The IT Crowd" by Graham Linehan. It's only about 15 seconds of fame, but the whole programme is great and you can still see it on 4OD here.
One last thing! Our Full Frontal Nerdity tour starts in a couple of weeks and tickets are on sale. We'd love to see you at one of them – full listings below, and tickets available here.